Oshkosh Family Lawyer
Enforce and Protect Your Rights As a Father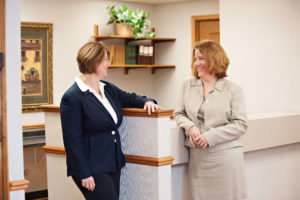 If you are a father and would like to assert your legal rights, an Oshkosh family lawyer from Derr & Villarreal, LLC, would like to speak with you. Although nearly every state has adopted the principle that both mothers and fathers have equal rights when it comes to parenting, it is still common for many fathers to feel their rights are jeopardized during or after a divorce.
Understanding Parental Rights
Both the federal and state governments have developed legislation, rules, and procedures that ensure the person who has rights to a child is well equipped for that position. After the birth of a child, both parents will automatically be given parental rights. These rights are taken away only when the court finds a parent to be unfit or when the parent waives his or her rights. This means that as a father, you have equal rights and equal legal treatment.
Your Rights As a Father
If you and your ex-spouse or partner have been unable to reach an amicable agreement regarding your children after a divorce, it is possible for the court to place guidelines of the rights of each parent. As a father you might be given visitation rights; however, discretion may be exercised, thereby, limiting the time you have with your children. A family lawyer in Oshkosh who handles father's rights cases can help protect your rights to their fullest. Your rights as a father include, but are not limited to:
-The child's physical health
-The child's emotional and psychological health
-The child's financial wellbeing
-Educational decisions
-Legal decisions
-The child's cultural upbringing
-Custody and visitation
When a child does not have a strong relationship with their father, they lose out on an important role model. This is your child's life, well being, and even future that truly hangs in the balance. Nothing should be worth fighting for more than your rights as a father and your child.
What Can an Oshkosh Family Lawyer Do
The laws encompassing father's rights are complex and typically require the expertise of an Oshkosh family lawyer. Our lawyers can assist you in any of the following:
-Establishing paternity
-Adoption proceedings
-Terminate your parental rights
-Negotiate and enforce child custody, visitation, and child support
-Engage in arbitration or mediation
-Fight against parental biases
If you are being denied your rights as a father, we want to hear from you. Our lawyers are ready to embrace equal protection under the constitution, federal, and state laws that call for equal rights of parents. Using this legislation as a foundation we will be able to build a case that defends you and your rights as a father. When you choose to work with a family lawyer Oshkosh families trust from our firm, you will benefit from:
-Proficient case analysis
-Well crafted strategy unique to your needs
-Honed negotiation skills
-Credibility and a strong court reputation
-Aggressive legal representation
-An unbiased father's rights lawyer
Assert Your Legal Rights As a Father with an Oshkosh Family Lawyer Who Cares
Whether you are facing fabricated allegations of abuse, fear that the mother or guardian will remove your children from your home, or believe you deserve more time with your children, we are ready to work with you. To learn more about our father's rights legal services, please call an Oshkosh family lawyer from Derr & Villarreal, LLC at 920-885-5549.