West Bend Divorce Attorney
HOW DO I KNOW IF OUR MARRIAGE CAN BE SAVED?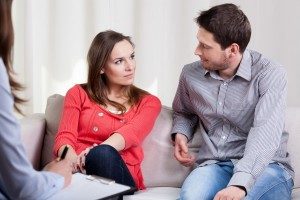 When you decide to file for divorce, our West Bend divorce attorney at Derr & Villarreal has decades of experience to guide you through the maze of divorce. But it is first essential to determine if you are ready for this enormous life change. The decision to get divorced is intensely personal. While no one rule universally applies, there are 4 factors or guidelines to consider when determining whether to divorce. These are communication, conflict, commitment and counseling – the 4 "C's."
First, has your communication declined? While every marriage is unique, many say that their communication just before the divorce had reached an all-time low. Has your communication reflected a mutual loss of respect over time? The patterns can be varied. But regardless of the interaction, at least one of you dreads interacting with the other. Neither spouse feels that the other has listened to them for a long time. Communication has bottomed out.
The second area to consider is conflict. Some couples who are enmeshed in conflict repeatedly argue and fight ("hot war"). Others who are conflict avoidant live together in silence ("cold war"). The key consideration isn't the level of conflict but rather the inability to work through it. Neither situation allows for couples to work through and resolve their issues. Having the same arguments over and over without resolution, demonstrates a fundamental inability to address and resolve the underlying issues.
The third area to consider is the commitment of either party to stay married. Ask yourself this question. If your spouse made every possible change you ever wanted, would you stay married? If the answer is "no" then your gas tank is empty. And it can't be refilled. But if there's a spark left, then it is time to ask about counseling.
Our West Bend divorce attorney knows that to increase communication and work through underlying conflicts, both parties must seriously desire counseling. Perhaps you have asked for counseling repeatedly, but your spouse has continually refused. Have you let your spouse know that your marriage depends on it? After more than 30 years, our attorneys at Derr & Villarreal have seen many spouses who were asked to go but refused to attend counseling until it was too late. Had they realized that their marriage depended upon it, they would have gone. They would have said "yes." If there is still some commitment left, consider letting your spouse know the importance of your request.
But if there is no longer any hope and your recalcitrant spouse finally says "yes" to try counseling, proceeding will only give them a false sense of hope. While it may seem kind that you are "letting them down gently" they will eventually realize that there was no chance and will resent not being told the truth.
Without progress in counseling, the next step would be to file for divorce. Whether your spouse consistently refused to attend counseling, or you have participated in counseling but felt that you were just spinning your wheels by either not addressing the real issues or discussing but not resolving them, it is another sign that the time has come to seek an experienced West Bend divorce attorney from Derr & Villarreal.
At Derr & Villarreal, we understand that you have not come to this difficult decision lightly. We have the expertise, experience and patience to help you sort through both your feelings and facts to help you make the best possible decisions for you and your family.