West Bend Divorce Lawyer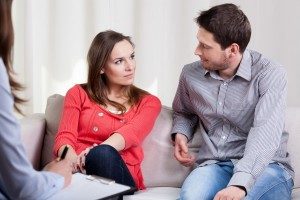 Any West Bend Divorce lawyer would attest to the significant skill and experience necessary for litigating a divorce case. At Derr and Villarreal, our divorce attorneys have over 50 years combined experience to guide you through this most difficult journey. We know that divorce is life changing and we help you rebuild your life for the better.
To that end, Derr & Villarreal will not only guide you each step of the way, we also make sure to dot the "I's" and cross the "T's" from the moment you discuss the possibility of divorce until after the final hearing when any liens have been recorded and pensions divided. This significant attention to detail ensures both your financial security as well as the goals you have on sharing the children.
Initially, we'll discuss what immediate issues need to be handled if there is a dispute such as who will continue to live in the residence if you cannot live together as well as immediate financial issues such as marital support, child support, health insurance, responsibility for the payment of debts and a placement schedule to share your children.
The court may order the parties to participate in divorce mediation. This is the process where a neutral mediator assists the two of you in coming to a resolution on how you will share your children. This generally occurs early in the process. Timing is critical. If the divorce mediation is too early, people might not have sorted out their feelings on the issues and may not be ready to make final determinations. But it can also be ordered too late when the parents are entrenched in rigid positions and have even brought family members into the conflict to create "tribal warfare."
If there is significant disagreement at the outset, the court may appoint a guardian ad litem ("GAL") even before divorce mediation. The GAL could be a West Bend Divorce lawyer the court appoints to represent the best interests of your children in the family law action. In Wisconsin the GAL must be an attorney, but this is not necessarily the case in other states. This attorney does not advocate for whatever your children want but rather what is in their best interest.
Despite the necessity of covering all these immediate issues, our West Bend divorce lawyer will nevertheless work to understand your vision for the future. We'll set your specific goals, so we can work together to ensure that they are met. Everyone is unique. Some people want to keep their home while others can't wait to sell. Some clients prefer their property more "liquid" or more easily converted to cash, while others may prefer to retain assets that are not as easily converted to cash such as real estate or retirement assets. Whatever your goals, our attorneys at Derr & Villarreal work tirelessly for you.
Once we have together established your goals, we'll gather all related information called "discovery" which can be either formal or informal. Derr & Villarreal is assertive, thorough and persistent in following through to uncover all relevant facts of your marriage. We leave no stone unturned. This includes not just finances but also discussing the factors relating to how you will eventually share your children. Our West Bend Divorce lawyer will consider the factors most relevant to the trial court for your case. To name a few, this includes the relationship that each parent has with your children, how you've shared the children in the past, your children's relationship to each other, how the two of you communicate and cooperate, the children's adjustment to their home and community and their own wishes, the parents' desires, and what, if any, evidence exists about drug or alcohol abuse. The court looks specifically at any history of abuse or neglect of the children, any criminal record, if there has been any violence in the family between the parents, someone else living in the home or even someone who doesn't live in the home but who is in a dating relationship with a parent.
Only when you have a solid understanding of both your marital estate as well as the factors affecting how you will share your children do we open lines of communication for settlement. In those discussions, we work professionally to minimize the tension and keep open lines of communication which is the best way to maximize your financial goals, as well as how you are going to share your children. Our skilled West Bend divorce lawyer will work closely with you from the beginning until the end always keeping in mind the goals you initially set.